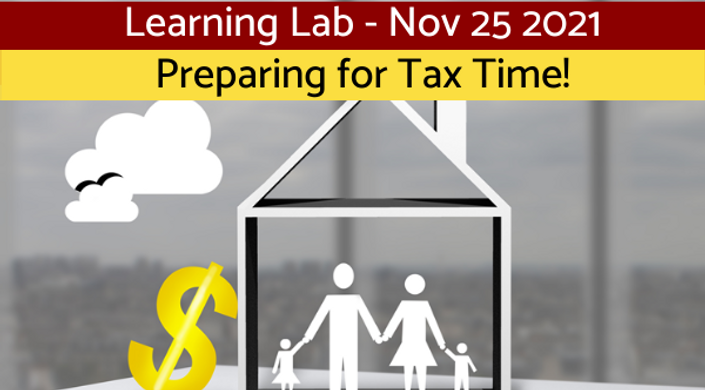 Learning Lab - Preparing for Tax time!
Learning how to prepare before the year end (December)
These are 1-3 hour classes that are LIVE with our instructors. They cover a very specific topic for users.
Each time covers only one topic of interest, so that we can do a deep dive into that topic for members.
All

L

earning Labs

for are free if you are a Business Support Network Member.
All Learning Labs are recorded and available for 1 week after the class.
Participants are welcome to ask questions during the Learning Labs.
*Disclaimer* All information provided in the Learning Labs are for EDUCATIONAL PURPOSES ONLY and cannot be interpreted as professional advice.

WHAT IS THE BOOKKEEPING SUPPORT NETWORK?
Once you join the bookkeeping support network, then here are some of the features you will have available to you.
All

learning labs

for free
40% off

any courses

on our website
25% off our "

On the Money Bookkeeping Checklist

", which is a personalized look at what you have done throughout the year, recommendations on what to do better, showing you mistakes that you made. If you are a bookkeeper, this is your second set of eyes, or a double check on your work.
25% off all our

live training

.
Enrollment to our deadlines notification system.

Be alerted with reminders

whenever you should be doing things with your company.

Access to the "15-minute Ask"

. You can call us with your "just 15-minute questions". A professional bookkeeper will assist you. You get one question directly per month for free, and a reduced rate to any further time with us. Our regular rate is $85/hour and you get our time at $60/hour, billed in 15-minute increments.
This course is closed for enrollment.
(Non-members only require purchase. This is included for free for members of the Bookkeeping Support Network).
Upcoming Classes in the BSN
Thursday, November 25 - 10:00am - It's Tax Time!

What should you do to properly prepare for your tax person?

Thursday, December 9 - 10:00am - Vehicle Expenses

How do vehicle expenses work and how should you write them off

To be announced - Starting a Business

If you are new to business, find out how to start it and the actions you need to take. This is also good for people in business to learn the steps you should have taken. Applies at all stages of business.

To be announced - Running Your Business

If you don't want to be a bookkeeper, then what is really important for you to do and what is important for you to know?

To be announced - Let's Look at Bookkeeping Technology

Let's explore the different technologies. Which program should you choose and why would you choose it?

To be announced - Canada Revenue Agency, Compliance vs Collections

What happens when you are behind or you owe CRA some money? Let's take a look at what actions they may take.
Frequently Asked Questions
Are these classes live or recorded?
The classes are live with our instructors.
Can I have a recorded version?
There is a audio recording only available after the course. Due to the privacy of our participants, we do not provide a visual recording of the classes.
How long do I have to listen to the recording?
Non member participants will have one week to listen to the recording. Bookkeeping Support Members will have 30 days to listen to the recording.